University student rooms are clean.
Uni Student rooms have a study desk.
Foreign language students have access to experienced helpful and qualified lecturers of foreign language students. Ben has been head of Science Departments in Australian and international schools while his partner Joan has taught English to English as a second language students from China Japan Korea France Germany France Austria Indonesia Malaysia Hong Kong Brazil etc.
Student rooms are quiet.
Student rooms are secure and safe.
Student rooms are very large.
Call Joan the manager on 618.9245.5338 to discuss discount for students pricing. Student accommodation prices depend on length of stay and whether you are prepared to share with one other student.

We are located close to:
Edith Cowan University
University of Western Australia
Nontre Dame University
Pheonix Business School
West Coast College of TAFE
Tuart Business College
Scarborough internet Library
Perth's Central College of TAFE
Overseas uni students are welcome to use our internet connected office to communicate with their family and friends. We encourage and assist long term rental students in setting up their computers and internet connections.

Large in-house training discounts apply to university students accommodated at BeachFront.

Having trained students of non-western cultures for many years, your hosts Joan and Ben respect the practices of other cultures and beliefs. We have well behaved children aged 6 and 21 so we know the responsibilities and advice parents entrust us with. Your parents are welcome to inspect our university student accommodation with you for a getting to know you, no obligation session. We want to know what students' parents expect of the study policy of their students.

This university student accommodation is one of the safest and secure in Perth. It is surrounded by walls and locked at night gates. It is a fire safe brick and concrete construction with smoke detectors in student rooms. We do not permit smoking inside.

There is a sound proof student music room in the basement.

University students accommodated here are encouraged to study but also lead a healthy and social life. Joan is a qualified volunteer counsellor for a large Australian charity and is passionate about assisting young people through any of life's problems they may encounter.
Luxury university student accommodation units right on Scarborough beach.

Cul-de-sac, no roads to cross to Scarborough beach and public park with free BBQ and playground areas opposite.

Large double bedrooms, suitable for couples or travelling singles.

Self-contained units available.

TV in each bedroom.

Ample car parking.

Major Scarborough Beach shopping centre, 3 minutes walk, in same street, Scarborough Beach Post Office, Bank and ATMs

Top class Scarborough Beach Restaurant strip

Pubs, clubs and cafes, same street.

Laundromats.

Opposite bicycle paths to Fremantle and Hillary's Marina. See in photo below.

Main bus station and taxi rank to Perth universities and railway stations running every 15 minutes taking 20 minutes to get to Perth.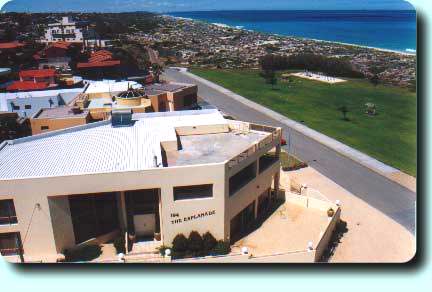 This luxurious Scarborough beach front mansion accommodation is particularly suitable for sharing university student couples wanting a private study holiday by a perfect sunny beach with close access to universities, shops and nightlife.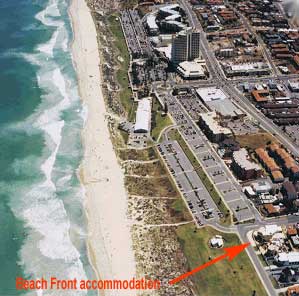 Beach Front at 194 The Esplanade Scarborough Beach

OPTIONAL EXTRAS AVAILABLE:

Office with internet.

Kayak.

SCUBA gear.

Surfboards.

Bicycles

Tours

Airport Transfers.
NEARBY:

Beach
Fishing
Bikes
Boating
Kitesurfing
Sailing
Lawn bowling
Lawn tennis courts
Horseback Riding
Jogging Track
Squash courts
Sailboarding
Scuba Diving
Shopping Mall
Snorkeling
Water Skiing
9 hole golf course
18 hole golf courses
Health Clubs
Airport - Scarborough Beach buses daily.

Car Hire and out of town Accommodation Special.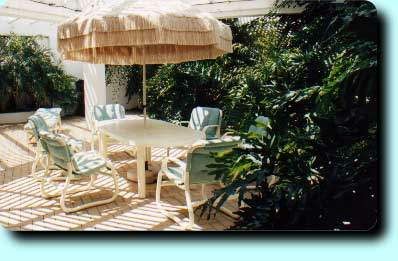 Cambridge English language course students in Perth are welcome.