Scarborough Beach Front executive executive

apartments Perth

- So close to the ocean you can almost touch it !
We spent a great 10 days in this wonderful caring environment, and can't praise our hostess, Joan Rando enough for her clean, modern and oh-so comfortable executive Apartment.

Janet and Ian Wright
Warriewood, Sydney Australia

Just wanted to say a big thankyou to Joan and Ben at The BeachFront executive apartment for making our stay over Christmas 2003 fantastic.
For anyone looking for somewhere to stay this place is excellent well located and the owners friendly and helpful. If you visit Perth and want seaside accommodation this cant be beaten.If anyone wants any help for the tourist things then please email me here in England and I will be glad to help andygt@f2s.com
regards.

Andy Mandy Lauren (The Tong Family) UK

Joan looked after me like a second mum. Her warm friendly hospitality was a bonus to staying in her clean self-contained Perth beachside executive apartments. It's not just the inviting early morning surf, great beaches, nearby nightlife but the care Joan put into ensuring you're OK, informed and having an enjoyable Perth beach holiday. Her executive apartment are so moderately priced that I've stayed there for long periods to get a break on the short term executive apartment tariff.

Dan Achurch
St Kilda, Melbourne Australia


Just want to thank Joan and ben for there hospitality whilst staying at the beachfront executive apartments Perth. We had an amazing time and are looking forward to coming back in the future.

John & Dave
England
---


Executive apartment view of
The Esplanade Scarborough, Perth


executive apartments have access
to outdoor areas


Executive Apartment ocean views.



Executive Apartments Near Perth beaches
Luxury Perth self-contained executive apartments and executive executive Apartments right on Scarborough beach.

Cul-de-sac, no roads to cross to Scarborough beach and public park with free BBQ and playground areas opposite.

Large double bedroom executive Apartments, suitable for couples or travelling singles.

Self-contained executive Apartments available.

TV in each bedroom.

Ample car parking.

Major Scarborough Beach shopping centre, 3 minutes walk, in same street, Scarborough Beach Post Office, Bank and ATMs

Top class Scarborough Beach Restaurant strip

Pubs, clubs and cafes, same street.

Laundromats.

Opposite bicycle paths to Fremantle and Hillary's Marina. See in photo below.

Main bus station and taxi rank to Perth and railway stations running every 15 minutes taking 20 minutes to get to Perth.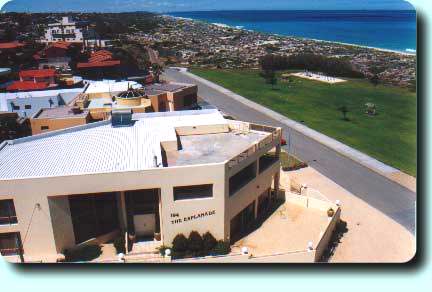 This luxurious Scarborough beach front mansion with executive apartment accommodation in Perth is particularly suitable for sharing university student couples wanting a private study holiday by a perfect sunny beach with close access to universities, shops and nightlife.
Beach Front executive Apartments
NEARBY:

Beach
Fishing
Bikes
Boating
Kitesurfing
Sailing
Lawn bowling
Lawn tennis courts
Horseback Riding
Jogging Track
Squash courts
Sailboarding
Scuba Diving
Shopping Mall
Snorkeling
Water Skiing
9 hole golf course
18 hole golf courses
Health Clubs
Airport - Scarborough Beach buses daily.

Car Hire and out of town Accommodation Special.