This hotel accommodation video also shows beaches of the Gold Coast, theme parks and inland waterway on the western side of the accommodation strip.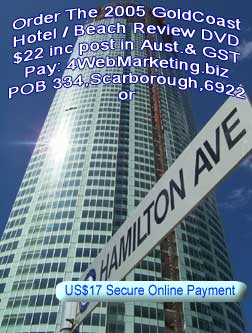 The worlds tallest building of residential apartments, Gold Coast, Australia
Before you pay for the Gold Coast Hotel Accommodation / Beach Review, you'll need to tell us in the form above where to dispatch your Gold Coast hotel review DVD video to.
Your Gold Coast Hotel Review video will be mailed to you when payment is received.